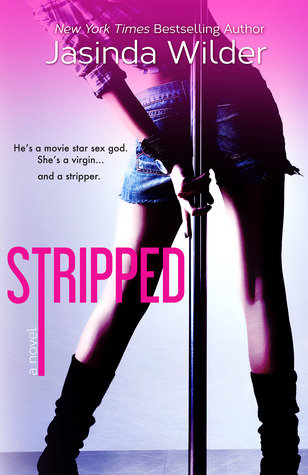 Kindle Edition: ca. 224 Seiten
Sprache: Englisch
Preis: 3,85€
Kurzbeschreibung:
So how did I get myself into this situation, you ask? Simple: desperation. When you're faced with being homeless and hungry or taking off your clothes for money, the choice is easier than you'd imagine. That doesn't make it easy, though. Oh no. I hate it, in fact. There's nothing I'd like more than to quit and never go into another bar again, never hear the techno beat pulsing in my ears again, never feel the lecherous gazes of horny men again.
Then, one day, I meet a man. He's in my club, front and center. He watches me do my routine, and his gaze is full of hunger. Not the kind of desire I'm used to though. It's something different. Something hotter, deeper, and more possessive. I know who he is; of course I do. Everyone knows who Dawson Kellor is. He's People Magazine's Sexiest Man alive. He's the hottest actor in Hollywood. He's the man hand-picked for the role of Rhett Butler in the long-awaited remake of Gone With the Wind.
He's the kind of man who can have any woman in the entire world with a mere crook of his finger. So what's he doing looking at me like he has to have me? And how do I resist him when he looks at me with those intoxicating, changeable, quicksilver eyes?
I'm a virgin, and he's an American icon of male sexuality. I'm a stripper, and he's a man used to getting anything and everything he wants. And he wants me. I know I should say no, I know he's the worst kind of player...but what my mind knows, my body and my heart may not.
And then things get complicated.
NEW YORK TIMES, USA TODAY and WALL STREET JOURNAL bestselling author Jasinda Wilder is a Michigan native with a penchant for titillating tales about sexy men and strong women. When she's not writing, she's probably shopping, baking, or reading. You can often find Jasinda drinking sweet red wine with frozen berries and eating a cupcake. www.jasindawilder.com
Als ich dieses Ebook bei Goodreads entdeckt habe, wusste ich, dass ich es lesen musste.
Wieso auch nicht? Der Plot klang interessant. Eine Stripperin, die noch Jungfrau ist?
Mal etwas anderes, dachte ich. Aber nachdem ich reingelesen hatte, war ich doch enttäuscht, denn ich hatte mir alles ganz anders vorgestellt...
Grey, die Tochter eines Pfarrers hat nach dem Tod ihrer Mutter nicht viel übrig für Gott und erst recht nicht für ihren Vater, der ihr ständig vorschreibt, was sie zu tun und was sie zu lassen hat.
Nach einem großen Streit verlässt sie kurzerhand ihre gewohnte Umgebung und fängt ein neues Leben in Los Angeles an. Doch das ist leichter gesagt, als getan.
Denn schon bald geht ihr das Geld aus und um nicht aus dem College zu fliegen, macht sie sich auf die Suche nach einem Nebenjob.
Nach Monatelanger Suche landet sie schließlich in einem Stripclub.
Und hasst es mit jeder Faser ihres Körpers. Nach jedem Auftritt geht es ihr miserabel, aber sie zwingt sich dazu, denn sie möchte auf keinem Fall zurück in ihre Heimatstadt.
Eines Abends soll sie für einige Prominente strippen und begegnet dem berühmten Schauspieler Dawson, der eine faszinierende Anziehung auf sie ausübt.
Vielleicht hatte ich zu große Erwartungen an dieses Buch, aber nach dem beenden war ich einfach nur enttäuscht.
Grey war zwar sympathisch, aber manchmal auch einfach nur nervig. Ständig hat sie geweint und sich bemitleidet. Na klar, sie ist Jungfrau, hat überhaupt keine Ahnung von Männern und soll sich dann ausziehen?
Aber muss man sich dann wirklich ständig selbst bemitleiden und nach jedem Auftritt kotzen?
Auch war es meiner Meinung nach etwas übertrieben, wie schnell Dawson und Grey zusammen kamen und wie ihre ganze Beziehung verlief.
Ich vergebe deshalb leider nur: 2 von 5 Schneeflocken